Shaka Kitesurftrip Cape Town
Shaka Sessions
It's On! Reis de komende winter met ons mee naar het prachtige Kaapstad!
12 dagen vol kitesurfactie 

Kaapstad kitesurftrip – Dudes & Dudettes

Datum – 10 januari t/m 22 januari (TBC)
Niveau: Intermediate/Advanced
- Vlucht Amsterdam <–> Kaapstad
- Vervoer van en naar luchthaven in Kaapstad 

- Accommodatie / Shared room (Max. 2 personen per kamer)
- Ontbijt en lunch
- Transfers naar het strand
- Downwinders
- Opslagruimte
- Testmateriaal
Prijs 1.599,- p.p.

Er zijn 10 plekken beschikbaar dus wees snel met boeken. Deze leuke ervaring wil je niet missen ;)

Ook inbegrepen:

2x Braai (BBQ 'en)
Lions Head Sunset hike
Dagje Sightseeing

Exclusief:

-Reisverzekering
-Annulering en
-Avondmaaltijden (Naast 2x bbq)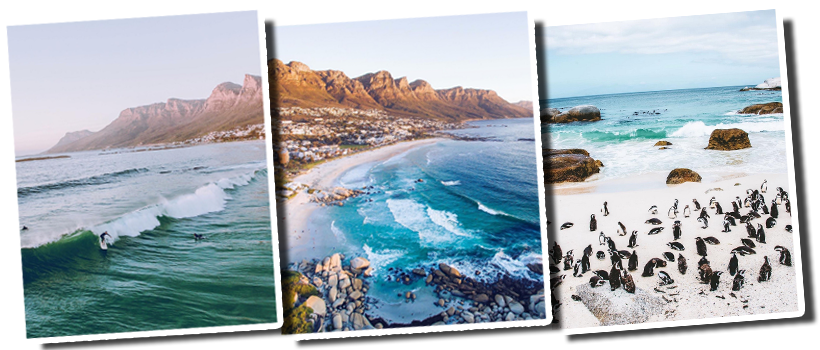 Kaapstad
 
Kaapstad is in de loop der jaren een populaire winterbestemming voor kitesurfers geworden. De reden hiervoor is dat deze plek vele mogelijkheden biedt en als het in Nederland winter wordt dan begint de zomer in Kaapstad.
Daarnaast kun je met KLM rechtstreeks vliegen. Er is maar één uur tijdverschil met Nederland dus je hebt geen last van die vervelende jetlag. Van de meest waanzinnige downwinders tot lekker hoogspringen met de profs die daar overwinteren. Groot is de kans de je opeens naast 'Megaloop master' Ruben Lenten of 'Hoe gekker, hoe beter' Nick Jacobsen aan het varen bent.


Wat kun je verwachten?

's Ochtend lekker makkelijk aan tafel schuiven en ontbijten. Na/tijdens het ontbijten zullen we bespreken welke spot de beste optie is voor die dag.
In Kaapstad neemt de wind toe in de loop van de dag. We hoeven ons in de ochtend dus niet te haasten. Sunset Beach is meestal de beste optie om te beginnen en achankelijk van de intensiteit van de wind, zijn Big Bay en Melkbos de places to be in de middag.
Normale dag planning:
 

Ontbijt

Kitesurfen

Lunchbreak

Kitesurfen
Avondeten



Geen wind?

Helaas kunnen wij niet bepalen wat moeder natuur doet, er is altijd kans op windloze dagen. Gelukkig is er in Kaapstad genoeg te doen. Hieronder hebben wij op een rijtje gezet wat (in overleg met de groep) de mogelijkheden zijn:

- Blue Rock wakeboarden
- Tafelberg beklimmen
- Suppen / Surfen

- Canyoning Crystal Pools
- Mountainbiken
- Sandboarding
- Wijnproeverij
- Aquila safari
- Shark cage diving 

- De stad ontdekken: Longstreet, Old Biscuit Market, Waterfront, Noordhoek Community Market, Cape of Good Hope...
* Aan sommige activiteiten zijn extra kosten verbonden.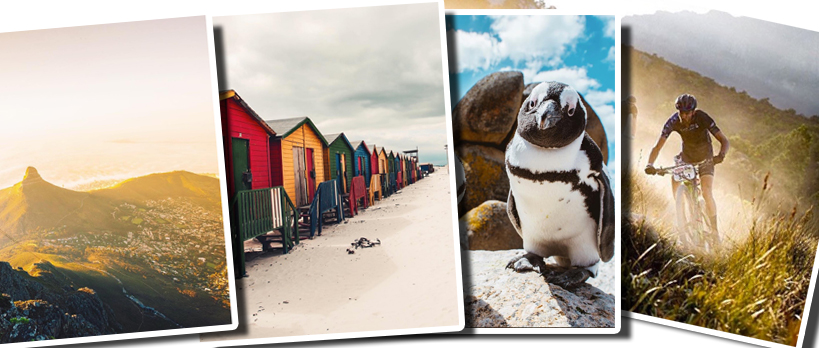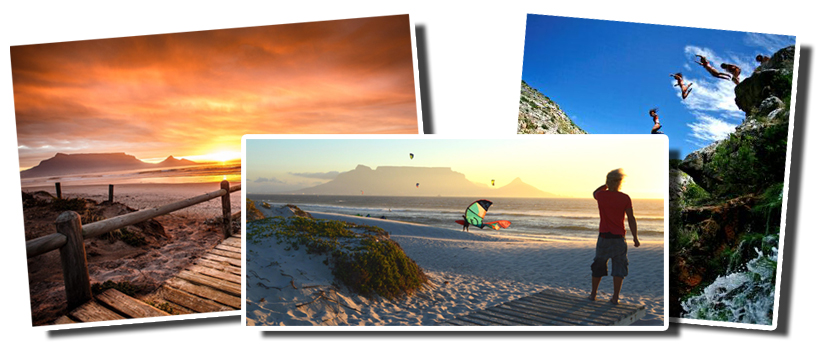 Accommodatie

We verblijven in een leuk en simpele Guesthouse in Blouberg. Het huis beschikt over een ruime tuin, zwembad, gratis WiFi, televisie en opslagruimte voor al je kitsurfspullen. Op looptafstand bevindt zich het Bayside Mall en andere faciliteiten. In principe deel je een kamer met één van de andere gasten. 

Mocht je ervoor kiezen om alleen een kamer te hebben, dan kun je dit aangeven bij de boeking. (LET OP: hier zijn wel extra kosten aan verbonden – 10 euro p.p. per nacht)
Ontbijt en een lunchpakket wordt dagelijks voor jullie verzorgd. Geen zin om te koken? rondom het guesthouse vind je diverse goedkope en lekkere restaurantjes waar we 's avonds uit eten (kunnen) gaan. Mocht je na het avondeten nog energie overhebben, dan is er altijd de mogelijkheid voor een dansje bij Doodles of een van de andere barren.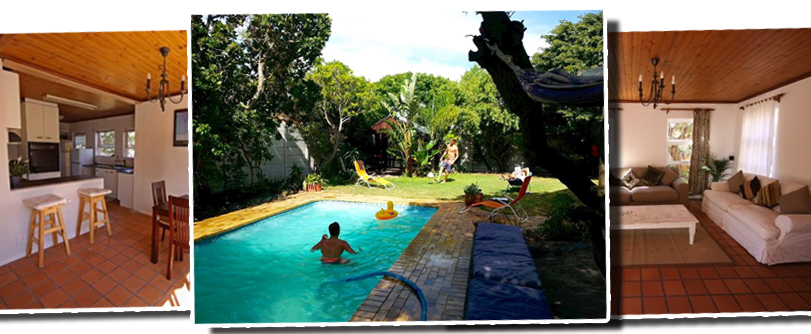 Aanvullende informatie

Gesproken taal: Afrikaans/Engels 

Munteenheid: Rand (ZAR)

UTC: +2 

Hoogseizoen: November – Maart
Gemiddelde luchttemperatuur: 25 – 30°C
Gemiddelde watertemperatuur: 16°C
Bier: +/- 25 R = € 1,50 
Gemiddelde maaltijd in een mid-range restaurant: 80 - 150 R dat is ca. € 8,50
Wetsuit: het is noodzakelijk om een wetsuit aan te doen, het water kan behoorlijk frisjes zijn. In principe is een 3/2 goed, mocht je het snel koud hebben dan kun je beter kiezen voor een 4/3 of 5/3.

Meer info?

Heb je nog vragen of wil je je aanmelden stuur ons een mailtje naar [email protected] dan nemen wij direct contact met je op.