Duotone Neo 2022
Description of the Duotone Neo 2022
For years, the Duotone Neo has been the wave kite that all others are compared to; the unique combination of power, control and drift properties have made it the wave kite that everyone wants to use. While strapless freestyle has developed as a discipline, the kite has also evolved.

The tuning options are soft, medium and hard, so you can tune the kite to the conditions of the day and your personal preference. In hard mode, the kite delivers a powerful run that is easy to control, while soft mode improves turning speed and drifting capabilities. The legendary drift has made the kite incredibly successful in the waves.

Coupled with unparalleled steering response, the Duotone Neo allows you to perform in both offshore and onshore conditions. Designer Ken Winner has spent many years developing these features in the kite, always striving for perfection. The weight of the kite is optimized to increase performance and make the kite react immediately to input from the bar. The result is a kite that feels like an extension of your body on the wave. The wind range is huge with a lot of power in the low-end, allowing you to use a smaller kite, while the kite in the high-end still has a lot of control.

If you want to dominate the waves with complete confidence, the Neo is the kite for you; tune it to your style, throw it in the air and immediately take first place on every stage!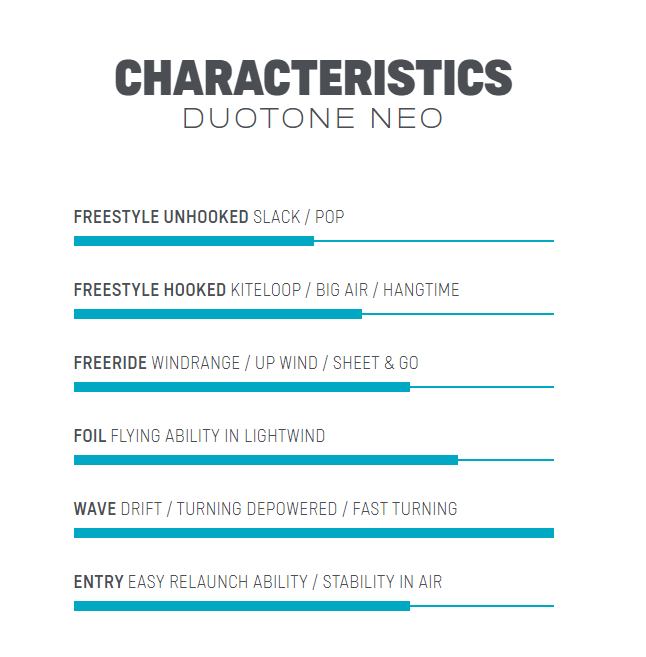 Features of the Duotone Neo 2022
Fantastic drift properties
Unparalleled steering response
Incredibly powerful with a lot of depower
Proven and original construction
Geometry is tailored to size
Sizes of the Duotone Neo 2022