Duotone Evo 2023
The most user-friendly all-rounder in the Duotone line-up, perfect for freeride, hooked freestyle and playing in the waves, it is one of the most popular kites on the market.
The Duotone Evo comes in many different color variants. For an up-to-date stock of the labels, please contact us.
Characteristics Duotone Evo 2023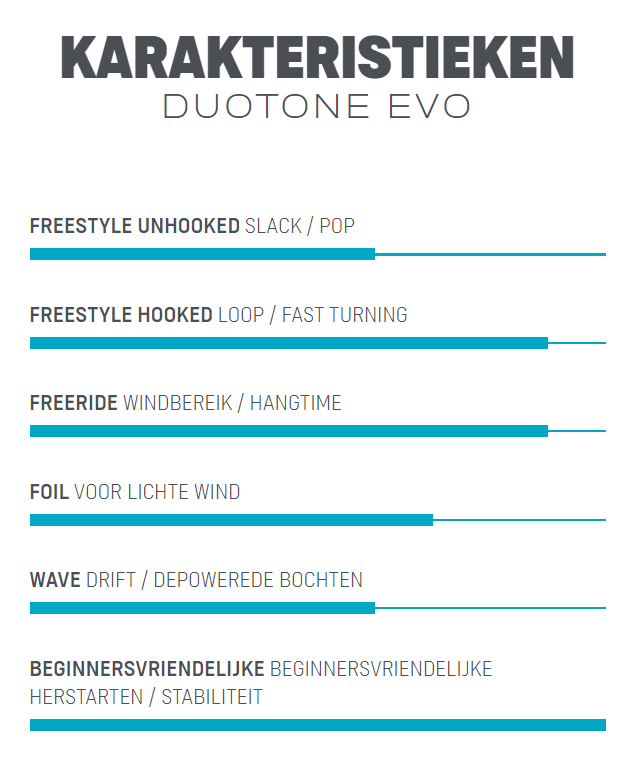 Wind range Duotone Evo 2023
Details

Details Duotone Evo 2023
Sometimes you don't want your kite to dictate your riding style and we all want a good session to speed up our progression. The Evo offers it all. Our design team wanted to bring the most user-friendly and most versatile kite to the market. The result is intoxicating no matter what your level or the riding style you prefer. During freeriding it is important that the kite quickly provides fun, at all levels. Jumps are easy and have a lot of hangtime, which will make the most demanding kiters happy. The kite has a "sheet-and-go" feature that makes it easy to control and gives the kiter a lot of confidence on the water. This is the kite that will help you progress quickly, but also won't hold you back once you've gotten better. Due to the dynamic character you can control the turns well; as you tighten the bar more, the rotation speed increases. This feature also makes the kite suitable for wave riding and allows you to explore challenging conditions with ease. If you want to go freestyling, the Evo is the right place for you. The Evo is perfect for your first steps into freestyle and you'll be landing your first raleys sooner than you think. The kite is also excellent for a range of skills; beginners will enjoy the forgiving easy nature, while more advanced kiters will enjoy the huge hooking properties and even the looping of the kite if you have the guts. If ever there was a kite that wasn't defined by any discipline or kiter's style, it's the Evo. However you want to play on the water, whatever your level, the Evo is the kite that can take you to the next level.
TRINITY TX